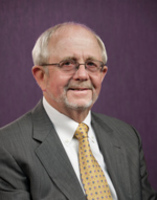 John Neil
Treasurer
John Neil joins the Kennewick Public Facilities District with over 32 years of experience in finance, commercial lending and executive management skills. During his tenure he served as a Senior Vice President for Bank of America, an Executive Vice President for Banner Bank, and as a Regional Vice President for Bank of the West. Since his retirement he has taken on a number of community projects and currently serves as the Executive Director of the Tri-Cities Food Bank.
John has been a Tri-Cities resident since 1995 and has served the community in a number of leadership capacities including serving as Chairman of the Tri-Cities Visitor and Convention Bureau, President of the Mid-Columbia Reading Foundation, Chairman of TRIDEC, Board Member of United Way, and Board Member of Washington Special Olympics.
John recognizes the important role that public facilities play in enhancing the quality of programs available to Tri-Cities residents, while also serving as catalysts to create economic prosperity for the community.