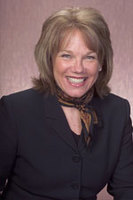 Kathy Blasdel
Secretary
Kathy Blasdel has been a resident of Kennewick since 1980 and retired as the Tri-Cities Visitor & Convention Bureau's (TCVCB) Vice President of Tourism Development in 2008. During her 13 years with the TCVCB, Blasdel presided over convention and sports marketing; heritage and eco-tourism; wine tourism and the Benton Franklin River Heritage Foundation, a non-profit organization established to support preservation and enhancement of local cultural resources, rivershore and trail projects.
In 2001, she managed the TCVCB's corporate partnership with Battelle to oversee the activities of the Tri-Cities Lewis & Clark Bicentennial Council. This led to her appointment to the Washington State Lewis & Clark Advisory Committee, and in 2005 she was the recipient of the Washington State Historical Society's Peace and Friendship Award.
Kathy is an alumna of Leadership Tri-Cities (LTC) Class II and has served on the board of directors for LTC, the Benton Franklin Chapter of the American Red Cross, the United States Potato Board and the Columbia River Chapter of the Daughters of the American Revolution. She was appointed to the Port of Kennewick's Vista Field Advisory Board and also served for 11 years on the Kennewick Lodging Tax Advisory Committee. Blasdel was appointed to the Kennewick Public Facilities Board in April 2008. Due to her years working in convention sales, Blasdel understands the importance of providing a seamless and "under one roof" experience, and so supports the development of an attached hotel and additional exhibit and meeting space at the convention center.
Kathy also recognizes the facilities as essential components in bringing new visitor dollars to the community and offering quality of life benefits to our citizens and therefore is committed to working with the KPFD board members and staff to create an exceptional experience for all.