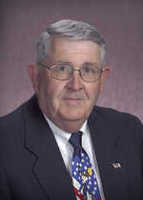 John Givens
Treasurer
John Givens has been a Tri-Citian since 1996. The majority of his professional career has been spent working at senior and executive management positions in both the private and public sectors. After Givens completed his undergraduate education at North Idaho College, he completed post graduate studies at the University of Washington Pacific Coast Banking School, and University of Washington Daniel J. Evans Cascade Public Executive Management School.
Mr. Givens was appointed to the Kennewick Public Facilities District Board of Directors in 2005, currently serving as Treasurer. He additionally represents the KPFD, and the City of Kennewick, to the Tri-Cities Regional Public Facilities District Board of Directors. In 2012, John was elected to the Washington State Association of Public Facilities Districts Board of Directors and currently serves as Secretary on the Executive Committee of that Board.
Givens has served in leadership roles on numerous publicly elected or appointed, National, Regional, State and Local Boards and Committees during his extensive private/public service career.
Givens is a former Kennewick Man of the Year, a recipient of the Leadership Tri-Cities "Sam Volpentest Award" for exemplary community service, and a 1990 inductee of the Shrine East/West Football Game "Daddy Program" Hall of Fame for his efforts with the Shriners Hospital network. John is also a recipient of the Idaho State DeMolay Leadership award for exemplary community service and outstanding leadership.
Mr. Givens firmly believes tourism, convention, sports, entertainment and cultural enhancement opportunities in Washington State, and specifically in the Tri-Cities, are underutilized today. One of our major future goals should be on developing facilities and programs for bringing new visitors and new money into our state and our community while at the same time providing quality of life enjoyment opportunities for those of us who already live here.